VIVA EUROPA 2010
VIVA EUROPA 2010 JUNE 18TH was part of the 2010 European Year for Combating Poverty and Social Exclusion and received the high patronage of the Commissioner for Employment, Social Affairs and Inclusion, Mr. László Andor. It made possible for 43 cities in 17 European countries to simultaneously share Bizet's Carmen live on big screens, sang by Elïna Garanča and Marcelo Alvarez, conducted by Zubin Mehta and staged by Carlos Saura.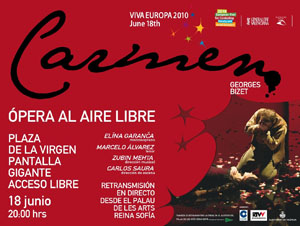 VIVA EUROPA 2009
VIVA EUROPA 2009 JUNE 24TH took place during the 2009 European Year of Creativity and Innovation under the patronage of Mr. Ján Figel, European Commissioner for Education, Training, Culture and Youth. This cultural event consisted in a live transmission of Wagner's opera Die Walküre from Palau de les Arts Reina Sofía in Valencia. The performance was played by Plácido Domingo, amongst others, conducted by Zubin Mehta and staged by La Fura dels Baus.
The first edition of this major European cultural initiative involved thousands of citizens from different European cities, who could simultaneously enjoy this unique experience.