Rome 1800. Mario Cavaradossi, a painter, is in love with the singer Floria Tosca. Baron Scarpia, chief of the secret police and a heartless man, desires TOSCA, woman of character famous for her voice and her terrible jealousy.
Cavaradossi is hiding Cesare Angelotti, a republican friend who has escaped from the prison of Castle Sant'Angelo, in his country house. Scarpia tortures Cavaradossi and gets TOSCA to reveal the fugitive's hiding place. The painter curses Scarpia and swears that Napoleon will release them from his yoke. He is sentenced to death and dragged to prison.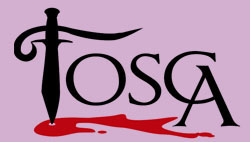 TOSCA, forced to give in or lose her lover, agrees to Scarpia's indecent proposal: to spend the night with him in exchange of Cavaradossi's life. The baron pretends to order a mock execution for the prisoner, after which he is to be freed. Tosca believes Scarpia and, once alone with him, snatches a knife from the table and kills him, escaping from his Machiavellian plan.
The alleged fake execution of Cavaradossi is witnessed by TOSCA. But the shooting was real and her beloved lies dead. Aghast, she understands that Scarpia's treachery has transcended the grave. The baron's subordinates discover her crime. TOSCA cries to Scarpia to meet her before God, then leaps to her death from the roof of Castle Sant'Angelo.